Description
***Due to higher than expected demand, the first production run of the Kraken is now completely sold out***
Pre-Orders are now being taken for the second production run with an expected availability date of Monday 24th June

Retail Price – $1599 (AUD)

An invoice will be sent to all pre-order customers for the remaining balance once confirmation of shipping from SAB to Zen RC has been received. All confirmed (and paid in full) pre-order kits will be shipped as soon as they arrive at Zen RC.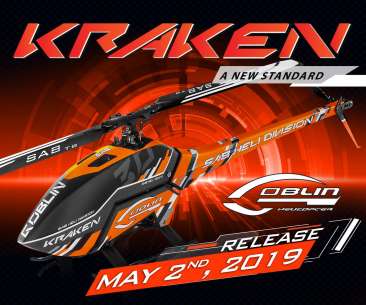 The SAB Goblin Kraken features many new design concepts into the latest helicopter offered within the Goblin line up to-date. Goblin Kraken is the 30th model released by SAB, and its unique design language will be a capable platform for many years to come. While the complete model mimics previous Goblin looks, many new features are found on the Kraken platform.
Features at a Glance:
Aluminum housed, fully enclosed gear box
Steel alloy main shaft, and oversized one-way bearing
Independent belt pulleys
Rotor head manufactured with 7075 aluminum
Front mounted blade grip arms (6061 aluminum)
Customizable dampening system
Different head geometries offered
Updated lighter weight tail assembly
Simplistic tail fin replacement system
Enclosed Gear Box System
While still under wraps, the designers and testing during development has delivered incredible durability through flight and crash testing. An enclosed design provides simplicity for the end user, as well as never before seen longevity thanks to it's generously oversized bearings, and other secret patent pending designs.
Kraken Rotor Head – Performance and Durability
The Kraken Rotor Head provides users with several updates. First and foremost is the Rotor Head, & Blade Grips are manufactured from 7075 aluminum. When paired with the Blade Grip Arm (the disposable part in a crash), that is manufactured from 6061 aluminum, and serviceable from outside the rotor grip, both building the new kit, and maintenance will be a breeze. Additionally, there are two Blade Grip Arms offered for different flying styles – spacing 26mm from the center of the rotor head, and 30mm. 26mm provides a higher response rate, and 30mm will provide a higher resolution feel.
Kraken Tail Rotor
While featuring a standard tail group design with a pitch slider and lever, SAB ensured performance of the Kraken was at the top of the design list in every way possible. Shedding 22% of the weight over previous Goblin tail groups, the Kraken not only incorporates a powerful and reliable tail system, but adds small amounts of performance gain by removing weight far away from the CG – aiding in Flybarless performance, and flight characteristics.
Specifications:
Main rotor diameter: 1558mm w/690mm blades
Main blade length: 690mm
Main shaft diameter: 12mm
Tail shaft diameter: 6mm
Spindle diameter: 10mm
Estimated weight: 3820g (without battery)
Includes:
(1) SAB Goblin Kraken Electric Helicopter
(1) Set of SAB Carbon Fiber Main Blades
(1) Set of SAB Carbon Fiber Tail Blades
Needed To Complete:
2.4GHz Transmitter & Receiver (7-channel or more, helicopter system)
Electric Motor 4035 – 4525 500-560kV
(3) Cyclic Servos (Standard Size, 40mm; High Torque Recommended)
(1) Tail Rotor Servo (Standard Size, 40mm)
12s 4000 – 5000mAh LiPo Batteries
3-Axis Flybarless System
Compatible Battery Charger
Pitch Gauge
Various tools, lubes & greases for setup and assembly
Here's a quick preview of the Kraken from the Rebels Funfly in May this year.