Description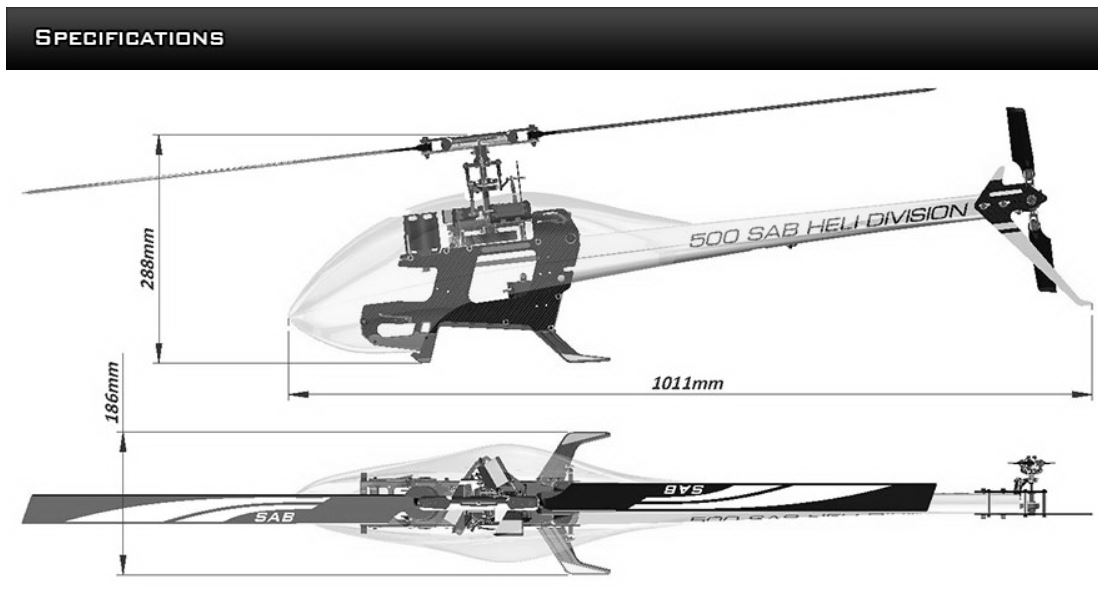 Specifications:
Following the huge success of the Goblin 500, the Goblin 500 Sport is now available!!
The design totally changes to follow the family feeling with the Goblin 380.
Ability to use medium and full-size servos
2 sets of Main blades
2 sets of Tail blades
The structural plates are now made of a plastic material Zytel70G33L. This change ensures a reduction of 48 grams in weight.
Main gear CNC H0423 (aluminum/delrin) in the basic kit
New Swashplate with high quality spherical bearing
Landing gear with extra width
Boom obtained with different technology, 25 grams less
General Specifications:
Main rotor diameter:  1136 mm
Main blade length: 500mm
Tail blade length: 80 mm
Weight including electronics: 1880 g (excluding batteries).
18T motor pulley included
Electronic Specifications:
Cyclic Servos: Mid and Standard size (36 and 40 mm)
Tail Servo: Standards size 40mm
Typical speed controller: 100A
Maximum motor size: 52 mm diameter, 58 mm height
Flight Battery: 6S 3300/4500 mAh; Battery compartment: 50x54x180mm
Kit Includes:
18T motor pulley (other pulley sizes available)
2 battery trays
500 mm main blades (2 sets)
80 mm tail blades (2 sets)
The following motor pulleys are available:
16T Pulley Ratio 10.33:1
17T Pulley Ratio 9.72:1
18T Pulley Ratio 9.18:1
19T Pulley Ratio 8.7:1
20T Pulley Ratio 8.26:1

21T Pulley Ratio 7.87:1
22T Pulley Ratio 7.51:1
23T Pulley Ratio 7.19:1
24T Pulley Ratio 6.91:1
All motor pulleys are for a 6mm motor shaft. Each pulley includes an adapter for 5mm motor shafts.
| | | | |
| --- | --- | --- | --- |
| | | | |
| Simple and effective design | | Dampened tail system for increased vibration tolerance | |
| | | | |
| --- | --- | --- | --- |
| | | | |
| Two main / tail blade sets | | Main plate and servo support in technopolymer Zytel | |
| | | | |
| --- | --- | --- | --- |
| | | | |
| | All servo sizes compatible | | |