Description
Goblin Fireball Competition
(with Comp. motor, ESC and blades )
Registered design 003738210-0001/0004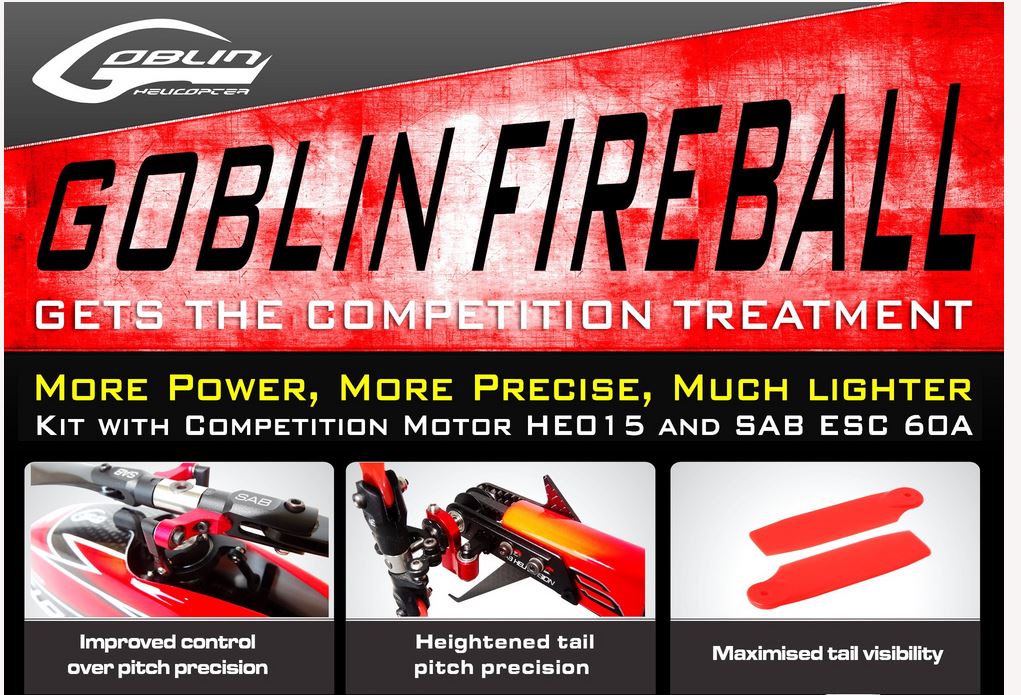 SAB Goblin Fireball 280 – Bring On the Heat !!
Utilizing an ultra innovative & patented Direct Drive motor to main shaft layout, the Goblin Fireball 280 utilizes no transmission system, with the tail belt being direct driven. This allows massive levels of simplicity & functionality, making the system ultra durable and incredibly easy to repair.
Innovative, gorgeous and ready to push the envelope of micro 3D flight, the Goblin Fireball 280 features cutting edge capability & functionality that sets it apart from any other micro heli on the market today.
Features:
Minimal Parts & Low Complexity with Direct Drive Motor Layout
Micro Servo Design for Maximum Levels of Performance & Control
Ultra Innovative Centralized Motor Layout for Optimum CG
Incredibly Low Parts Count for Ease of Assembly & Repair
Direct Flight Control System via Swashplate to Rotor System
Specifications:
Main Rotor Diameter: 626mm w/ 280mm Blades
Approximate RTF Weight: 890g
Cyclic Servos: Micro Size / 23mm
Tail Servo: Mini Size / 23mm
Motor: Competition SAB Motor -HE015
ESC: 60A
Batteries: 6S 22.2V / 900mAh – 1250mAh
Red Aluminium grip arm
Red Aluminium tail pitch slider
Red tail blades
Red light FG Canopy with carbon look
Red Carbon-reinforced tail boom
Kit Includes:
1 x SAB SG289 Goblin Fireball Competition Kit
1 x SAB Competition Goblin Fireball Motor
1 set SAB 280mm High Strength Carbon Fiber Main Blades
1 set SAB 50mm High Strength Plastic Tail Blades
1 x SAB 60A ESC
Required for Flight:
3 x Micro Sized 23mm Cyclic Servos
1 x Mini Sized 23mm Tail Servo
1 x 6S 22.2V 900mAh – 1250mAh LiPo Battery
1 x Micro Sized Flight Controller
1 x 6+ Channel Transmitter
1 x Receiver